06 December 2022
Bangkok, Thailand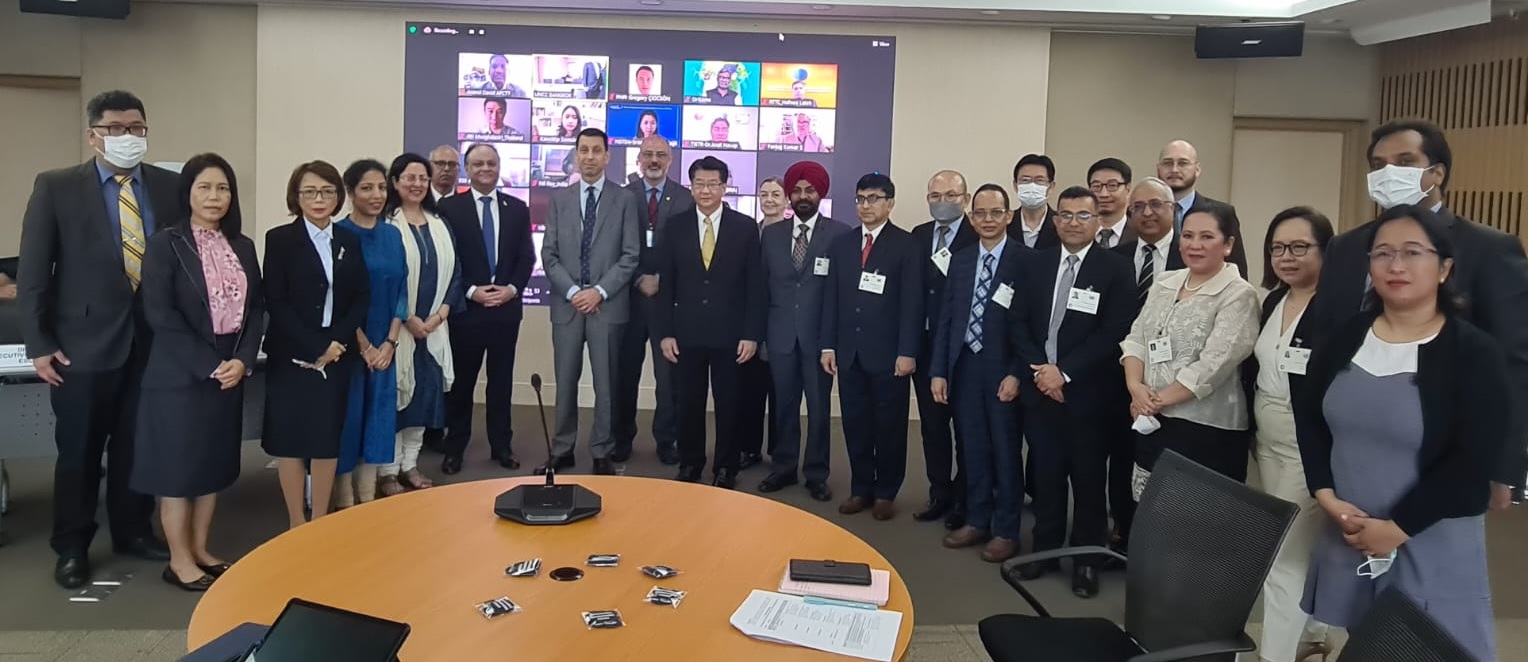 The Asian and Pacific Centre for Transfer of Technology (APCTT) of the United Nations Economic and Social Commission for Asia and the Pacific (ESCAP) organised an International Conference on Innovation, Technology Transfer and Cooperation for Addressing Climate Change on 6 December 2022 in Bangkok and online.
This international conference was organized to explore and learn from good practices in scaling up innovative technologies on renewable energy, low carbon transport and disaster risk reduction including 4IR technologies for building sustainable cities. It envisages to enhance knowledge on enabling policies and mechanisms to accelerate innovations for climate change mitigation and adaptation in cities.
Over 90 participants from Government officials, city administrators, representatives of international organizations, R&D institutions and private sector, and other relevant stakeholders involved in urban governance, innovations and technologies related to climate change mitigation and adaptation participated in the conference.
| Document Title | Document type | File Type | Language |
| --- | --- | --- | --- |
| Innovations and technology applications for clean and renewable energy transition in cities, Prof. Shobhakar Dhakal, Asian Institute of Technology, Thailand | Documents | PDF | English |
| Policy, regulations, and market front to support Rooftop solar deployment and adoption of energy-efficient appliances, Mr. Neeraj Kuldeep, Council on Energy, Environment and Water, India | Documents | PDF | English |
| Innovations and technology applications for low carbon urban transport and mobility, Dr. Vũ Anh Tuấn, Vietnamese-German Transport Research Centre (VGTRC), Viet Nam | Documents | PDF | English |
| Innovations and technology applications for disaster risk reduction and climate resilient infrastructure in cities, Ms. Mary Jane Alvarez, ICLEI Southeast Asia, Philippines | Documents | PDF | English |
| 4IR technologies and applications for climate-resilient smart cities, Mr. Sean Sharidz Doral, International Telecommunication Union (ITU), Regional Office for Asia and the Pacific | Documents | PDF | English |
| 4IR technologies and applications for climate-resilient smart cities, Mr. Sean Sharidz Doral, International Telecommunication Union (ITU) Regional Office for Asia and the Pacific | Documents | PDF | English |
| Innovative approaches for accelerating and up-scaling climate technology transfer, adoption and diffusion, Dr. Ramanuj Banerjee, DSIR, Ministry of Science & Technology, Government of India | Documents | PDF | English |
| Intellectual property strategies for facilitating diffusion of climate technologies in cities, Mr. Nirmalya Syam, Health, Intellectual Property and Biodiversity Program, South Centre, Geneva, Switzerland | Documents | PDF | English |
| Technology cooperation for cross-border transfer of innovative climate technologies, Ms. Clara Landeiro, Asia-Pacific Climate Technology Centre & Network (CTCN) | Documents | PDF | English |
| Collaboration and networks to facilitate innovation and diffusion of climate technologies for cities, Dr. Pakamas Thinphanga, Thailand Environment Institute (TEI) | Documents | PDF | English |
| Conference Summary Report | Documents | PDF | English |
| Background document | Documents | PDF | English |