15 September 2022
Bangkok, Thailand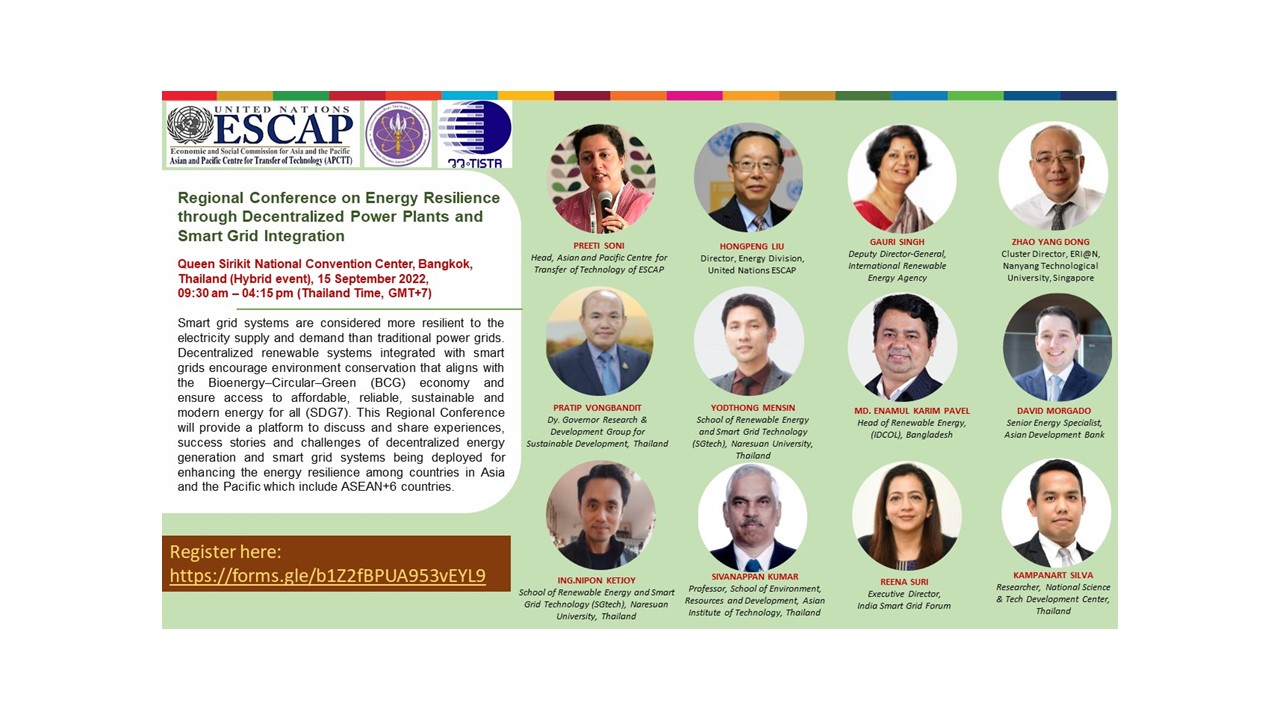 The Asian and Pacific Centre for Transfer of Technology (APCTT) of the United Nations Economic and Social Commission for Asia and the Pacific (ESCAP) organised a Regional conference on Energy Resilience through Decentralized Power Plants and Smart Grid Integration on 15 September 2022. The conference was jointly organized with Thailand Institute of Scientific and Technological Research (TISTR) and Ministry of Higher Education, Science, Research and Innovation (MHESI), Thailand.
The Regional conference deliberated on enabling policy options and strategies to encourage deployment of decentralized power plants and their integration with smart grid systems and share experiences and good practices for achieving energy resilience through decentralized power plants integrated with smart grids. It identified strategies for cross-border technology cooperation and transfer related to decentralized power plants and smart grids in the Asia-Pacific region, with focus on ASEAN countries
Over 150 participants comprising of policymakers, representatives of international organizations, R&D institutions and private sector representatives involved in electricity regulation, generation and consumption attended the conference.
| Document Title | Document type | File Type | Language |
| --- | --- | --- | --- |
| Decentralized renewable energy for energy security and addressing climate change, Ms. Gauri Singh, International Renewable Energy Agency (IRENA) | Documents | PDF | English |
| Role of R&D for supporting decentralized renewable power and integration with smart grids, Dr. Pratip Vongbandit, TISTR, Thailand | Documents | PDF | English |
| Decentralized energy options and delivery models– challenges and opportunities, Md. Enamul Karim Pavel, Infrastructure Development Company Limited (IDCOL), Bangladesh | Documents | PDF | English |
| Emerging 4IR technologies and trends for enhancing resilience of smart grids, Prof. Dr. Zhao Yang Dong, School of Electrical and Electronic Engineering, Nanyang Technological University, Singapore | Documents | PDF | English |
| Integration of distributed energy resources with virtual power plant platform - opportunities, challenges and barriers in Thailand, Assoc.Prof. Dr. Ing. Nipon Ketjoy, School of Renewable Energy & Smart Grid Technology(SGtech) Naresuan University, Thailand | Documents | PDF | English |
| Microgrid Service Solution: the zero net energy concept, Dr. Yodthong Mensin, School of Renewable Energy and Smart Grid Technology (SGtech), Naresuan University, Thailand | Documents | PDF | English |
| Implementing decentralized renewable energy projects integrated with smart grids – challenges and opportunities, Ms. Reena Suri , India Smart Grid Forum, India | Documents | PDF | English |
| Innovative financing and private investment for decentralized renewable energy projects with smart grids, Mr. David Morgado, Asian Development Bank, The Philippines | Documents | PDF | English |
| Promotion of Energy Resilience and Grid Modernization through ASEAN Energy Resilience Initiative, Dr. Kampanart Silva, National Energy Technology Center (ENTEC), National Science and Technology Development Center (NSTDA), Thailand | Documents | PDF | English |
| Conference Report | Documents | PDF | English |
| Programme Agenda | Documents | PDF | English |