30 March 2023
Bangkok, Thailand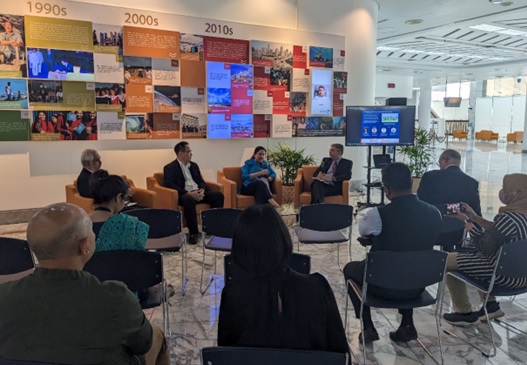 The Asian and Pacific Centre for Transfer of Technology (APCTT) of the United Nations Economic and Social Commission for Asia and the Pacific (ESCAP) organized a panel discussion on 'Advancing Climate Action and Resilience of Cities in the Asia-Pacific Region - Renewable energy and Air pollution control' on 30 March 2023 at United Nations Conference Centre, Bangkok, Thailand. The panel discussion was a side event of the 10th Asia Pacific Forum on Sustainable Development (APFSD) and jointly organized with the Sustainable Urban Development Section (SUDS) of ESCAP.
The panel discussion deliberated on climate action and resilience of cities focusing on renewable energy technology applications, and air pollution control technologies. The panelists shared insights on innovative technology solutions in renewable energy and air pollution control in cities and provided recommendations on accelerated action in the two sectors for making the cities climate resilient.
The side event was attended by policymakers, experts and relevant stakeholders involved in urban governance, renewable energy applications and city air pollution control in the Asia Pacific region.