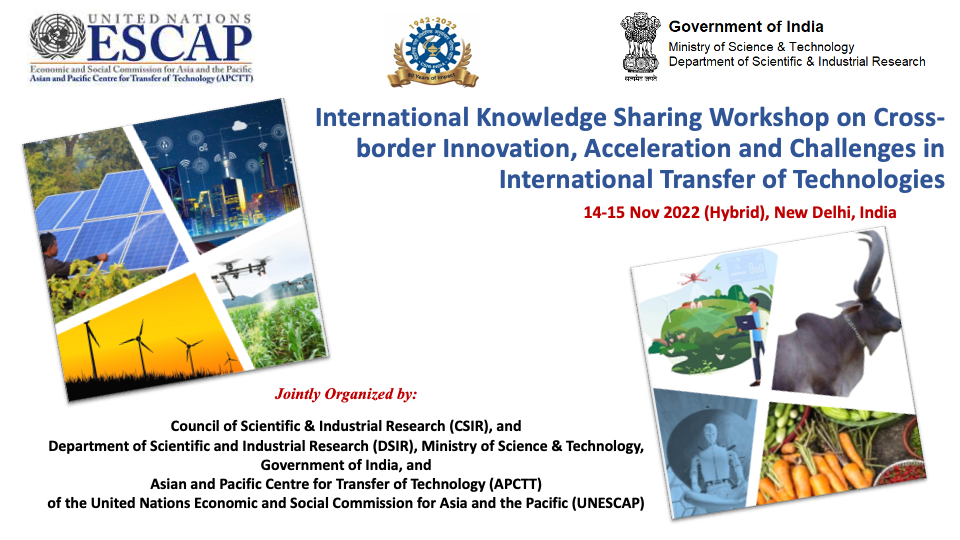 The Asian and Pacific Centre for Transfer of Technology (APCTT) of the United Nations Economic and Social Commission for Asia and the Pacific (ESCAP) organised an International Knowledge Sharing Workshop on Cross-border Innovation, Acceleration and Challenges in International Transfer of Technologies from 14-15 November 2022. The workshop was jointly organized with Council of Scientific & Industrial Research (CSIR) and Department of Scientific and Industrial Research, Ministry of Science & Technology, Government of India.
This international workshop was organized to deliberate on the challenges and share knowledge, experience and good practices on innovation and cross-border transfer of technologies in the Asia-Pacific region. The workshop envisaged to strengthen capacity of innovators and promote regional cooperation between innovators from India and member States of APCTT through cross-learning from experience and good practices, identifying potential collaboration opportunities and strategies for cross-border technology transfer.
Over 200 policymakers and innovators from member States engaged in development of policies and/or innovation, development or deployment of technologies attended the workshop.