01 December 2020
Guangzhou, China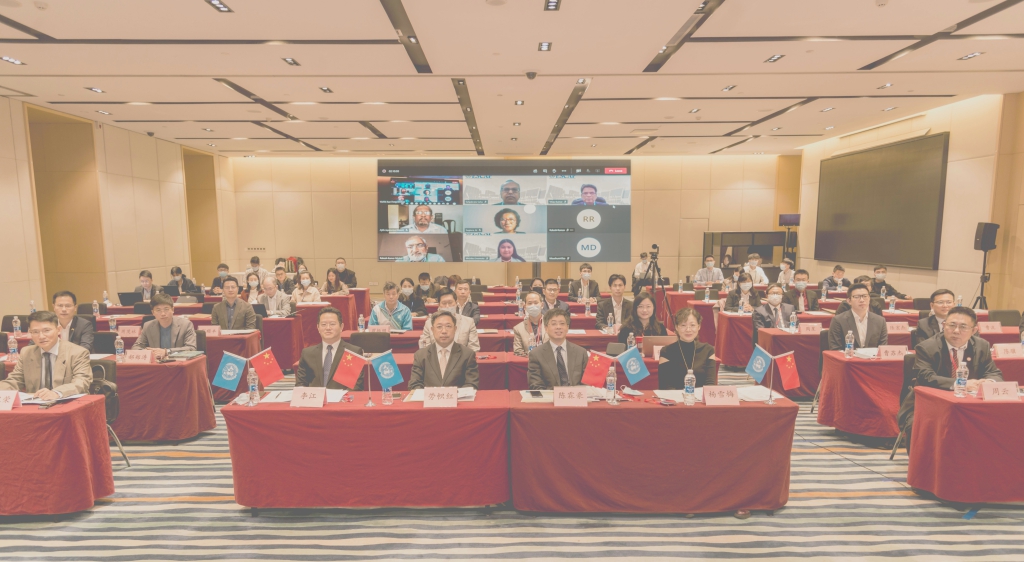 The International Conference on Emerging Technologies to Combat the Covid-19 Pandemic (1 December 2020, Guangzhou, China) was organized by the Asian and Pacific Centre for Transfer of Technology (APCTT) of the United Nations Economic and Social Commission for Asia and the Pacific (ESCAP) jointly with the Ministry of Science and Technology of the People's Republic of China and in collaboration with the Guangzhou University, China. Due to COVID-19 restrictions, arrangements were made for the international speakers and the participants to join the workshop through a virtual platform.
The conference provided a platform to deliberate on the role of science, technology and innovation (STI), and to share national, regional and global best practices on the use of emerging technologies to address the challenges of COVID-19. The conference facilitated increased understanding of participants on collaborative research and innovation, and international and regional technology cooperation related to emerging technologies. The conference had a strong focus on strategies to use fourth industrial revolution (4IR) technologies to address the challenges in the areas of healthcare, business, production, education and research and development, during- and post- COVID scenarios. One of the key items of the international conference was the launch of the new website of Asia-Pacific Regional Innovation Knowledge Network for 4th Industrial Revolution Technologies (APRIKNET-4IR). This knowledge network was created as an outcome of past APCTT event. The network and its website is funded by the Ministry of Science and Technology (MOST) of the People's Republic of China, in close collaboration with APCTT.
The International Conference brought together about 120 participants from APCTT's Governing Council member States and other member States of ESCAP, including government officials, science, technology and innovation professionals, international experts, and representatives from the private sector.
| Document Title | Document type | File Type | Language |
| --- | --- | --- | --- |
| Approaches and policies for COVID-19 mitigation_Dr. Rakesh Mishra, CSIR-CCMB, India | Documents | PDF | English |
| Role of the new and emerging technologies to technologies to address COVID-19_Ms Michiko Enomoto, APCTT, India | Documents | PDF | English |
| BGI's Efforts on Fighting Against COVID-19 Pandemic_Dr Jeremy Cao, BGI Genomics Co., Ltd., China | Documents | PDF | English |
| STI strategies to combat COVID 19_Dr. Pasit Lorterapong, MHESI, Thailand | Documents | PDF | English |
| Leveraging 4th Industrial Revolution (4IR) Technologies in the Fight Against COVID-19_Prof Xue-Feng Yuan, Guangzhou University, China | Documents | PDF | English |
| Role of 4IR technologies to drive inclusive economic growth during the pandemic_Prof So Young Kim, KAIST Korea | Documents | PDF | English |
| Supporting MSMEs' Digitalization Amid COVID-19_Mr. Andre Wirjo, APEC Singapore | Documents | PDF | English |
| Enabling policy ecosystem and strategies to promote use of emerging technologies for addressing COVID-19 challenges_Dr. Jitendra J. Jadhav, CSIR-NAL India | Documents | PDF | English |
| Responsibility from ability, Technology changes anti-epidemic_Mr Derek, China Electric Institute, China | Documents | PDF | English |
| Role of international collaboration to address the challenges of COVID-19 and build an inclusive recovery_Mr. Derek O'Halloran, WEF, Switzerland | Documents | PDF | English |
| Leveraging open technology platforms to enhance access to information to prepare for post COVID-19 recovery_Clare Dillon, Moss Labs, Ireland | Documents | PDF | English |